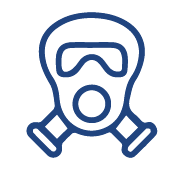 The Health Risks of Materials Containing Asbestos
Many homes and commercial buildings have asbestos. If a building is older than 1965 it is almost certain that asbestos in contained therein somewhere. Asbestos was put in paper, linoleum, tar paper, stucco, paint, furnace and pipe insulation, manufactured siding, roofing materials and many, many other products. Even after 1965 asbestos can be found in older products put in newer houses and products that continued to have asbestos even after it was know to be harmful. As late as the 90s asbestos was found in imported Gypsum board (drywall). Several countries, including Canada mine and export asbestos. It is likely it is coming back to us in various forms.

Here is some good advice. "Asbestos is only harmful in the lungs. Don't make dust with building materials, especially older building materials, and, if you do, don't let anyone breathe the dust."

Although the overall percentages of asbestos in bulk building material are very low, the airborne percentages can increase if the material is disturbed.  Asbestos poses health risks only when fibres are present in the air that people breathe.  If asbestos fibres are enclosed or tightly bound in a product, for example in asbestos siding or asbestos floor tiles, there are no significant health risks.  How exposure to asbestos can affect you depends on:

The concentration of asbestos fibres in the air

How long the exposure lasted

How often you were exposed

The size of the asbestos fibres inhaled

The amount of time since the initial exposure
When inhaled in significant quantities, asbestos fibres can cause asbestosis (A scarring of the lungs which makes breathing difficult), mesotheliomia (A rare cancer of the lining of the chest or abdominal cavity), and lung cancer.  The link between asbestos and other types of cancers is less clear.

Based on current information there is no evidence that vermiculite currently available for horticultural purposed (e.g. potting plants) is a health risk when used as directed.

Minimizing Your Risks
The best way to minimize your risk to asbestos exposure is to avoid disturbing asbestos containing materials in any way.  If asbestos is contained and not exposed to the home or interior environment, it poses very little risk.

If you are concerned that your home may contain asbestos visit the Health Canada Wed site to get the most up-to-date information as it becomes available.

If you know you have asbestos in your home take precautionary steps.

Do not allow children to play in an attic with open areas of vermiculite-based insulation and make sure anyone working in the attic knows about the possible presence of asbestos.

Do not use the attic for storage if retrieving items form it may disturb the insulation.

If you must go into the attic walk on boards in order to minimize disturbance of the insulation and use an appropriate respirator mask.  Do not remain in the attic longer than necessary.

Common dust masks are not effective against asbestos fibres.

If you decide to remove vermiculite-based insulation, speak to trained and qualified abatement personnel.

Need More Info? Visit the following sites.

Health Canada's information on the Home Insulation Web site at
‍https://www.canada.ca/en/health-canada/services/air-quality/indoor-air-contaminants/health-risks-asbestos.html

The Canada Mortgage and Housing Corporation publication  About Your House, Asbestos at : https://www.cmhc-schl.gc.ca/

All Points Home Inspections serves Victoria B.C., Saanich, Sooke, Metchosin, Langford, Sooke, Colwood, Sidney, Millstream, Shawnigan Lake, MillBay, Cobble Hill and other parts of Lower Vancouver Island